10 Tips for Seniors Preparing for College
Nov 2, 2016 3:02:00 PM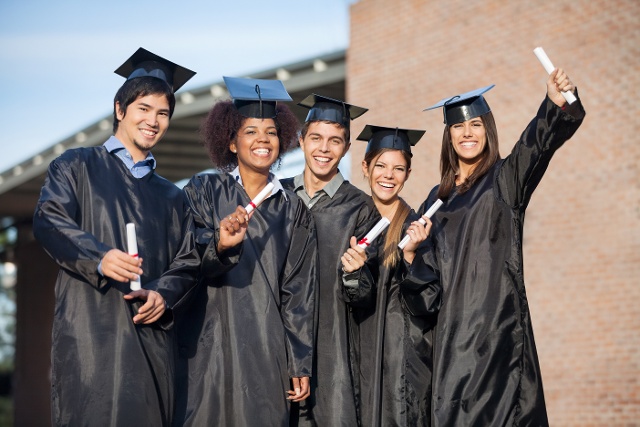 Shutterstock/Tyler Olson
It's your senior year, and your career as a high school student is coming to a close. Your life is full of exciting and trying times: college visits, entrance exams, admissions applications, and graduation preparations, not to mention your usual coursework and extracurricular activities. You'll also be experiencing a lot of "lasts" — last homecoming, last prom, last game — all of which remind you that there are emotional preparations to make before moving on to college. It is a good idea to take some time during these final few months of high school to prepare your mind for leaving the nest.
We've compiled a list of 10 ways to wisely get your affairs in order. Organizing and simplifying will make the whole process easier. Don't stress about doing them all at once — prioritize and do the ones that matter most, first.
Organize your computer and other academic files

. Now is a good time to clean out any unnecessary files and organize the ones you want to keep. If you have a lot of documents that you haven't put into folders, you probably waste a lot of time searching for items that aren't in a logical place.





Whether or not you own your own computer, you should have an online account with a free document storage service such as

Google Docs

or

Dropbox

, where you store and back up important files in the cloud for easy access from anywhere with an Internet connection (library, computer lab, dorm room, coffee shop, etc.).





Set aside an hour or two to trash the files, papers, handouts, and other documents you no longer need, and create folders for the ones you don't want to live without. Once you've organized all your documents in the way you want, back up your electronic data so you don't risk losing it in the event of a catastrophe.

Clean out your closet

. You haven't worn those boots even once in the past year — get rid of them! Take your unneeded clothes to a resale shop, get your f

riends together for a clothing sale, or donate excess items to a charitable organization.

The sooner you weed out your unwanted stuff, the more likely it is that someone else will want it. It's a good way to make a few extra dollars for yourself and to make another teenager's life a little brighter. Plus, when you're packing for college, you won't need to sift through mounds of clothing and other items you didn't even know you had.

Clear your conscience and express gratitude

. Say you're sorry or offer forgiveness to anyone with whom you need to make amends. Carrying emotional baggage wears you down and makes it hard to move on. Especially during your senior year, make the most of the time you have. That means keeping the friends you value most and opening yourself up to new relationships. Once you leave for college, you'll want to make sure you have some solid friendships that can withstand the distance.





Also don't forget to thank those who have been with you this far: parents, teachers, coaches, and close friends who have supported you and shared your joys and sorrows over the years.

Become a wise financial consumer

. If you haven't already, it's high time to open a checking account and a savings account. You'll need to learn to carefully track expenses and to save some of your money for the future. You don't want to go off to college without knowing how to handle money. There's no time like the present to get started.

Start or add to a journal

. Your senior year is an amazing time in your life, and you'll want to remember it for years to come. Writing in a journal is a great way to record the important moments in your life. (And believe us older folks, you'll find it a fascinating read when you have teens of your own.)

Clean up your social media image

. If you're in the college application process, Facebook and Twitter are great places to correspond with the admissions officers at your top-choice schools. Be real, but be sure the things you post will help your case, not harm it.



Once you're accepted, it's good to start thinking about the internships and jobs you'll be applying for in a few years, and take them into consideration before you post online. Remember, once it's in cyberspace, you can't take it back.

For tips on how to polish your online persona, see our blog post,

Social Media Spring Cleaning

.

Learn something totally new

. The wider the range of topics you explore, the more likely you will find an interest that becomes a lifetime passion — and maybe even your college major. It doesn't matter whether you start your search in a library or online; there's a vast universe of information waiting to be discovered. You might start with

TED Talks

, where you can learn from some of the greatest minds in the world.

Read about

this UCLA student

who, by committing one hour a day to learning something new, became quite the "Renaissance Man" in just two and a half years.

Volunteer. Are you bored? Feeling sad or fearful about all the changes happening in your life? Go help someone else. Your perspective will change, and you'll see your own world in a clearer light.

You can sign up with volunteer organizations, offer yourself as a tutor, or mentor younger students at your school. You'll meet new friends, gain valuable skills, and make a positive difference in the world.

For tips on finding the right volunteer experience for you, see

our blog post on this topic

.

Travel. When the time comes to head off to college, you'll probably have a lot more travel opportunities than you do today. Some of those adventures may be on your own, and — though you might not want to admit it — they can be a bit scary if you haven't traveled before.

Make sure it's okay with your parents first, of course, then plan a trip for a day or a week over winter or spring break. Visit relatives or stay with a friend in another city. Do the research: Look up the best route. Find fun things to do or see. Calculate expenses. Plan a budget. Make reservations for yourself or your whole family to travel together. You'll remember your trip the rest of your life, and you'll learn important skills that will help you when you're on your own.

Savor some family time. It seems hard to believe right now, but your senior year will fly by. Soon you'll be heading off to college, possibly in a different city or state.  

You may well be eager to leave home and take your next step into adulthood; that's natural. But you might be surprised to find how much you miss the very family you may have wanted so much to get away from. So spend time with your loved ones now. Make memories to carry you through those first weeks when homesickness hits in your freshman year of college.
You — and your family — will be glad you did.
You're probably finding it difficult to fill your mind with anything other than daydreams of the college experience that awaits you — we get that! But if you take the time now (while you have it) to get your personal and academic "ducks" in a row, you will find preparing for college to be easier, and you will be more likely enjoy the experience to the fullest when it comes.
More College Transition Tips
Ramp up your reading. Your reading load in college will be much heavier than it is now. Increase your reading stamina (and skill level) by reading as much as possible now.
Add or improve your tech skills. How is your typing ability? What tech tools out there could help you improve notetaking, organization, research, and time management? Explore new tools that will save time and improve performance. The website Lifehacker is a good place to start.
Explore extracurricular options. Once you know which college you will attend, explore the extracurricular options available on campus to get a feel for how you will get involved once you arrive. Check the campus newspaper online, and follow the social media pages of groups you are interested in.
Hone basic life skills. Do you know how to do laundry without turning everything pink or dingy gray? Shop for groceries without breaking the bank? Make a simple meal? Sew on a button? Navigate public transit on your own? The time to learn these basic "adulting" skills is now.
Pick up a marketable skill. It's always good to know how to bring in a little extra cash when you need it. Babysitting, tutoring, and website design are just a few ways you can make more than the minimum wage and add little extra spending money to your pocket.